Return to Baskets
Libby Gift Basket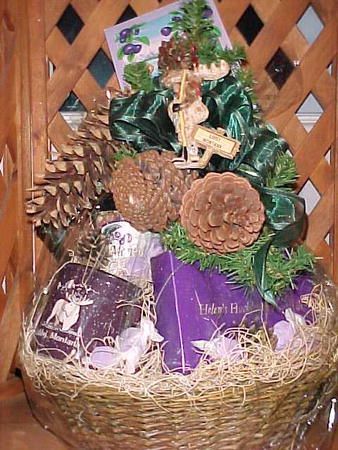 Our special Libby Gift Basket is filled with many wonderful Libby treats, perfect for anyone who loves Libby and Montana!
Price $85.00, plus shipping.
Free delivery within Libby! We accept VISA and MasterCard. This special gift basket contains Kootenai River Rock chocolates, huckleberry cordials, huckleberry muffin mix, a special sand-carved Libby mug (very heavy duty, microwave and dishwasher safe), huckleberry lotion and bar soap, and cocoa in a cute tin, huckleberry taffys are sprinkled throughout. It's all wrapped in cellophane with natural excelsior and pine cone accents, and tied with a pretty bow with twigs and cones. A darling Libby, Montana moose ornament dangles from the bow, making it more or less a year-round basket!
This basket contains:
Libby, Montana Moose Ornament
Libby Sand-Carved Mug
Helen's Huckleberry Cordials
Huckleberry Muffin Mix
Kootenai River Rocks (chocolates)
Huckleberry Lotion
Huckleberry Bar Soap
Cocoa in a Tin
Huckleberry Taffy
Return to Baskets