Return to Baskets
Huckleberry Heaven Gift Basket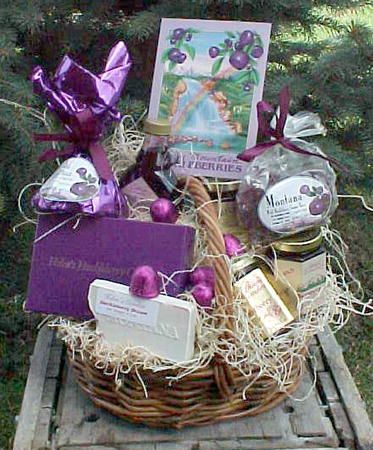 This is straight from Huckleberry Country in Libby, Montana!! Filled with gift items made from hand-picked, wild huckleberries that only grow high in the mountain country!
Price $85.00.
Basket is filled with delightful things guaranteed to please your taste buds, and is finished with ivy cellophane and topped with a beautiful bow. Items in basket are interchangeable. Actual basket may vary from the ones shown in these photos.

Also available for the Huckleberry Heaven Basket: Flapjack Mix, Huckleberry Candy Bar, Huckleberry Gummi Bears, Jelly Beans, Tea, Coffee - you decide! We build the baskets to suit your tastes! For variety, we offer a huckleberry basket filled with non-edible items including Huckleberry Hand Lotion, Lip balm, Soap, Candles, Potpourri, T-shirts, Shampoo, Conditioner and Shower Gel.
Return to Baskets